How to order
Ordering products on our website is an easy 3 step process:
1. Select Products or Choose a Pre-designed Kit
If you know what you're looking for, you can browse our product selector using our category, width, depth and height filters.

Otherwise, you can browse our pre-designed kits by selecting your van's make and model from the left-hand menu.

(If you're unsure what you're looking for, take advantage of our free design consultation service where we design and send you a professional 3d CAD drawing of your van's interior with racking, completely free of charge).
2. Add Products to Your Cart
Once you've found the products or kit that is right for you, simply enter the quantity you need and click the shopping cart icon to add the items to your cart.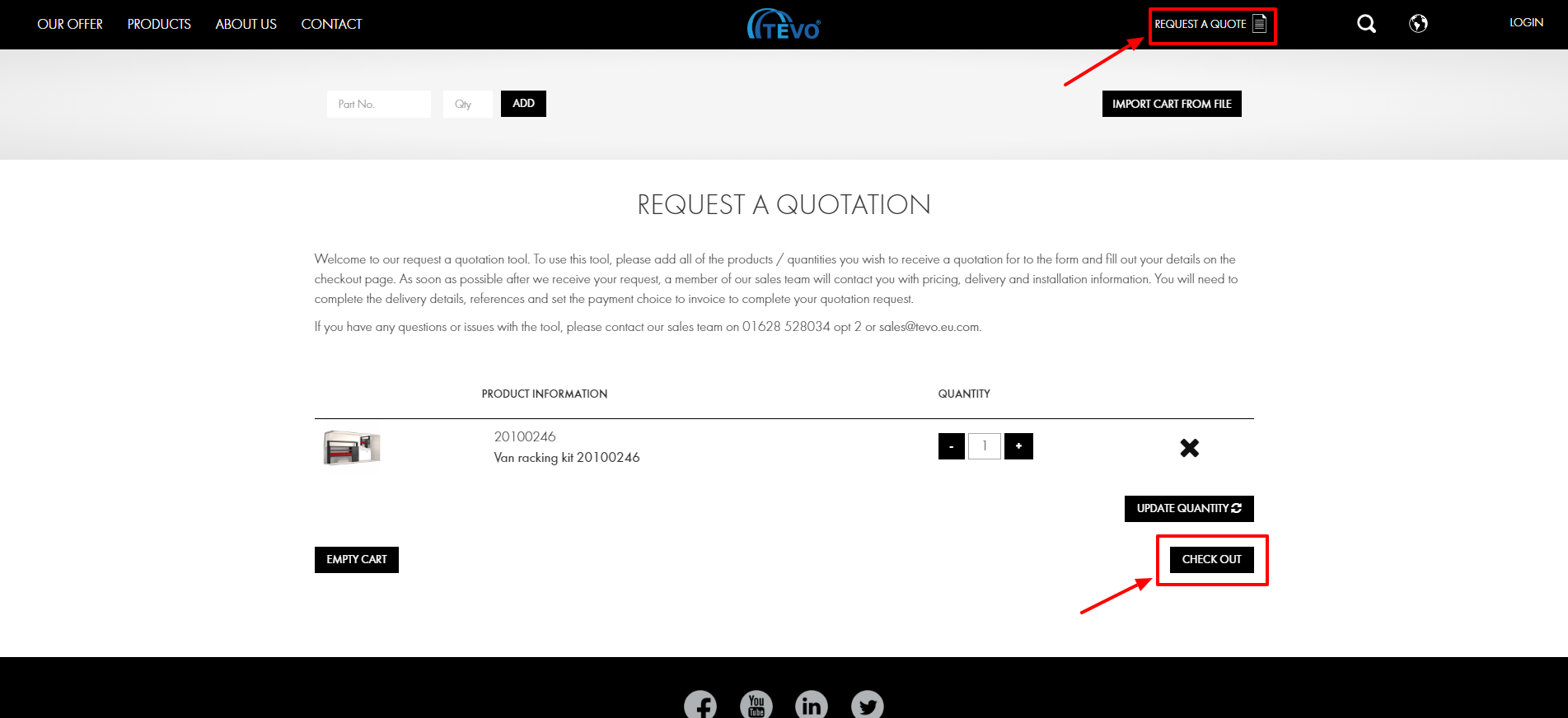 3. Request a Quote for the Products
When you've added the products and/or kits to your cart, click the 'Request a Quote' link in the top menu. This will take you to a page where you can see what's in your cart to make any final amendments.

Once you are happy with your items, click the 'Check Out' button. This will take you to a screen to fill out some basic information, so we can send you a quotation for the products. Once this is completed, simply click the 'Next' button, check your details, then click the 'Confirm' button.

If you have any questions, or if you'd like more information about our products or to place an order, please contact our sales team using our contact form, email: sales@tevo.eu.com or call us on 01628 528034 Opt 2.


SUPPLY OPTIONS
Our award-winning products are available to order in a range of supply options whether you are a tradesman or the operator of a nationwide fleet. Our fitting options are outlined below and range from a complete fit out and conversion service to flat pack and pre-assembled delivery of our van racking kits:
Complete fitting service for vans and fleets at our Wooburn Green workshop
Via our national mobile installation teams
Flat pack (supply only)
Pre-assembled
At one of our nationwide approved service centres

Contact us today to discuss your requirements.