Van Storage Ideas: Making the Most of Your Commercial Vehicle
Published: 5/11/2023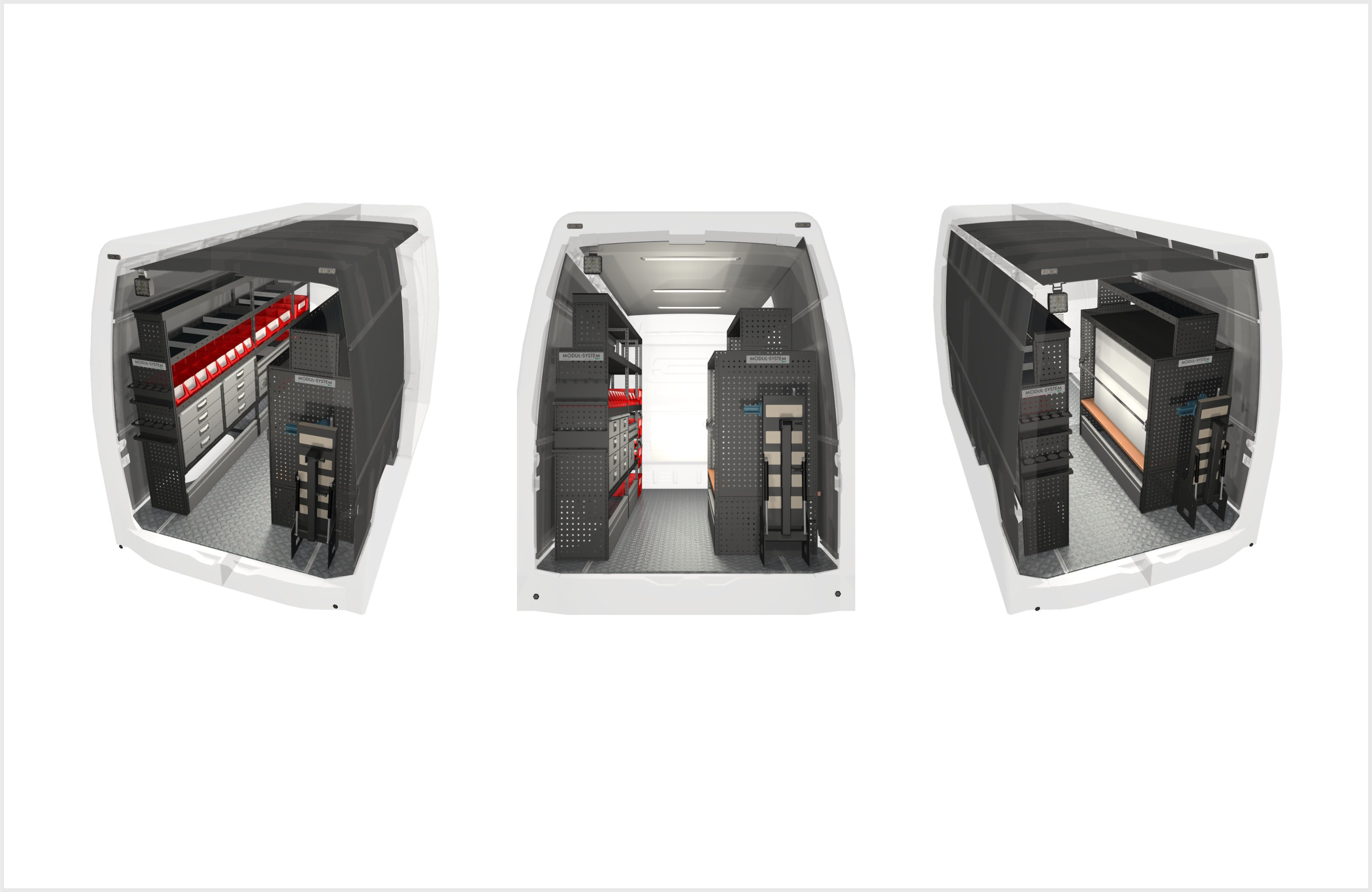 -
Are you a commercial van owner looking for smart and efficient ways to organise your tools and equipment? If so, you've come to the right place. In this article, we'll share some innovative van storage ideas that can help you make the most of the available space in your vehicle.
Van Storage Ideas for Every Business Need
Every business has unique storage requirements, but there are a few considerations that apply to everyone. Firstly, it's essential to know your vehicle's payload capacity to avoid exceeding it, which can be both dangerous and illegal. Additionally, weight distribution is crucial for load and road safety.
One of the most flexible and lightweight storage solutions is modular van racking. From large shelving units for bulky equipment to lockable cabinets for small items or power tools, modular racking can help meet your particular storage needs.


Small Van Storage Ideas: Under Floor Drawers
If you need more room to transport equipment in your small van, consider raised floors fitted with under floor drawers. These drawers utilise space that would otherwise go unused, providing a considerable volume of additional storage space. Movable aluminium dividers and boxes of various sizes can help you secure and contain different items or material.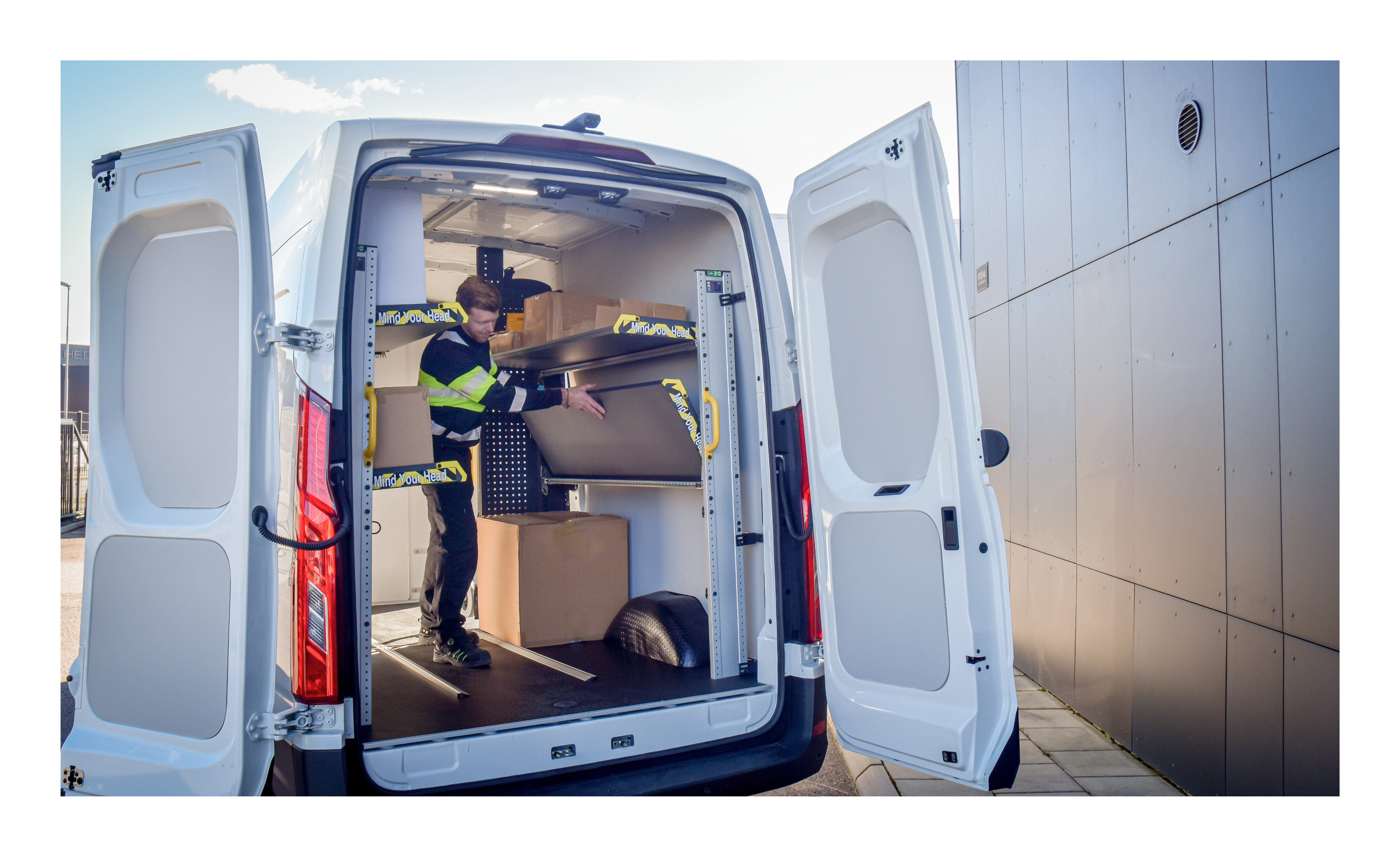 Van Storage Ideas: Folding Shelves
Tradespeople and delivery drivers often require storage solutions that offer maximum versatility. Lightweight and strong, folding shelves provide excellent storage capabilities. When the vehicle's floor space needs to be used, the shelving stows safely and securely, providing a much greater load area. The shelves are equipped with gas struts, allowing them to be raised and lowered with ease.

Work Van Storage Ideas: Internal Ladder Holders
Internal ladder holders offer safe and efficient storage of a ladder in the vehicle's cargo area. Equipped with a gas strut to facilitate loading, the holder ensures the ladder is secured while the vehicle is driven. Internal ladder holders can be secured to the interior roof of a vehicle, enabling efficient and safe ladder storage, leaving the load area of the vehicle free for the transportation of other essential equipment.

Van Storage: Broom Holders
Make the most of all the available space in your van, including interior walls and the ceiling. Broom holders on the interior roof of your vehicle provide the ideal space to store brooms, freeing up cargo area for other equipment. Using interior roof accessories allows you to store bulky items efficiently and keep your van clutter-free.


Van Storage Ideas: Wheel Arch Lockers
Wheel arch lockers maximize available storage by using the empty wall space over the top of your van's wheel arches. A frame placed over the wheel arch provides a secure foundation for drawer units or lockers. Cover panels and doors can be added to the frame to create additional work surfaces and access points. These versatile storage systems are designed to create maximum storage while preserving valuable floor space.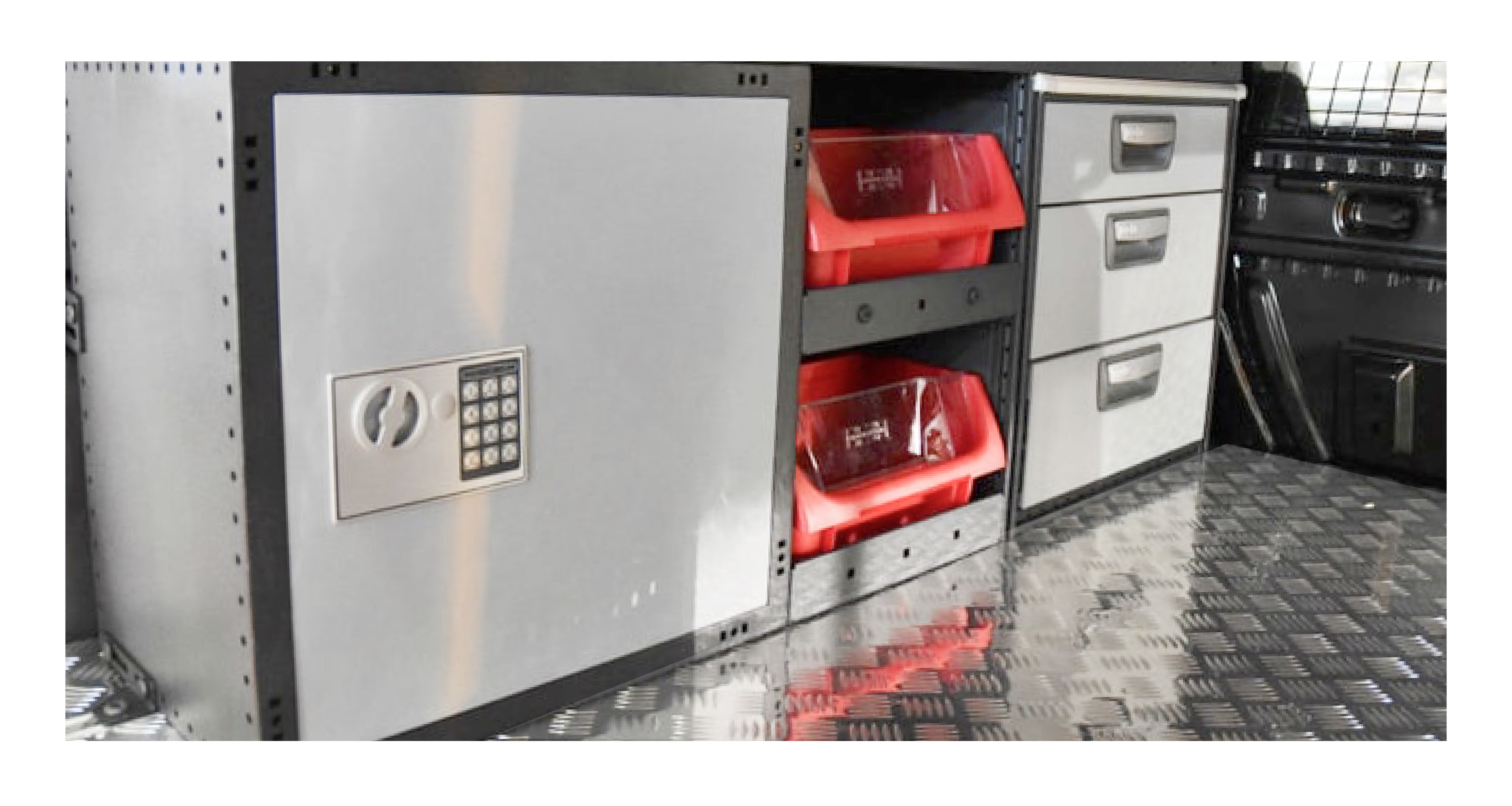 Secure Van Storage Ideas: Safes
If you need to store valuables in your van, consider adding a keypad safe to your storage system. The Modul-Safe can be combined with drawer units and other modular components to create the safe storage you require while on the move. Clever storage solutions allow you to take advantage of every area of your van, creating an ergonomic and professional mobile work environment.

Conclusion
In conclusion, optimising your work van's storage space is a smart move that can save you time, money and help to create a positive impression on your customers. When considering van storage ideas, it's important to keep in mind your payload capacity and weight distribution to ensure load and road safety. Lightweight racking, under floor drawers, folding shelves, internal ladder holders, broom holders, wheel arch lockers, and safes are just a few examples of innovative and versatile storage solutions that can help you make the most of your available space. By taking advantage of these ideas, you can efficiently and safely transport all your essential equipment and tools while maintaining a professional and organised work environment.