VAN ELECTRICS, INTERIOR & EXTERIOR LIGHTS & ACCESSORIES
Modul-Connect
Modul-Connect
The electrical system is an important part of your service vehicle. Our experienced technical team will design a customised electrical system that meets your specific requirements. We fit everything from simple lights or power sockets up to 230V systems.
With Modul-Connect you get an innovative and smart electrical system with integrated battery guard and fusing. The connected electrical accessories are operated by wireless switches or through the Modul-Connect App.
Benefits
Quick and safe wiring with our innovative Modul-Connect system.
Robust and durable lights, which holds all relevant certifications.
High-quality pure sinewave inverters which feature low battery alarm, overload and over-temperature shutdown.
Battery chargers which will charge your auxiliary battery quickly and works with 'smart charge' vehicles.
Modul-Connect
With Modul-Connect vehicle electrics are made simple. The system can be installed quickly and safely, without the need for experienced electricians or complex programming.
READ MORE

Modul-Connect is a ground-breaking innovative wiring and control system, which enables you to control all of the vehicle's auxiliary electrical items with your mobile device. It is extremely versatile and can handle large loads.
The system is developed for the light commercial vehicle industry, by Modul-System in collaboration with specialists within automotive electronics and software. The product is developed and produced in Sweden, using high-quality components. Therefore, we can with confidence offer a 3-year warranty.
Modul-Connect is completely independent of the OEM's electrical system and any other vehicle electrics. The system has undergone rigorous testing and holds both the E and CE mark.

On-board vehicle weighing system
With the on-board vehicle weighing system installed, the driver can monitor both front and rear axle weight, as well as the total weight, of the vehicle.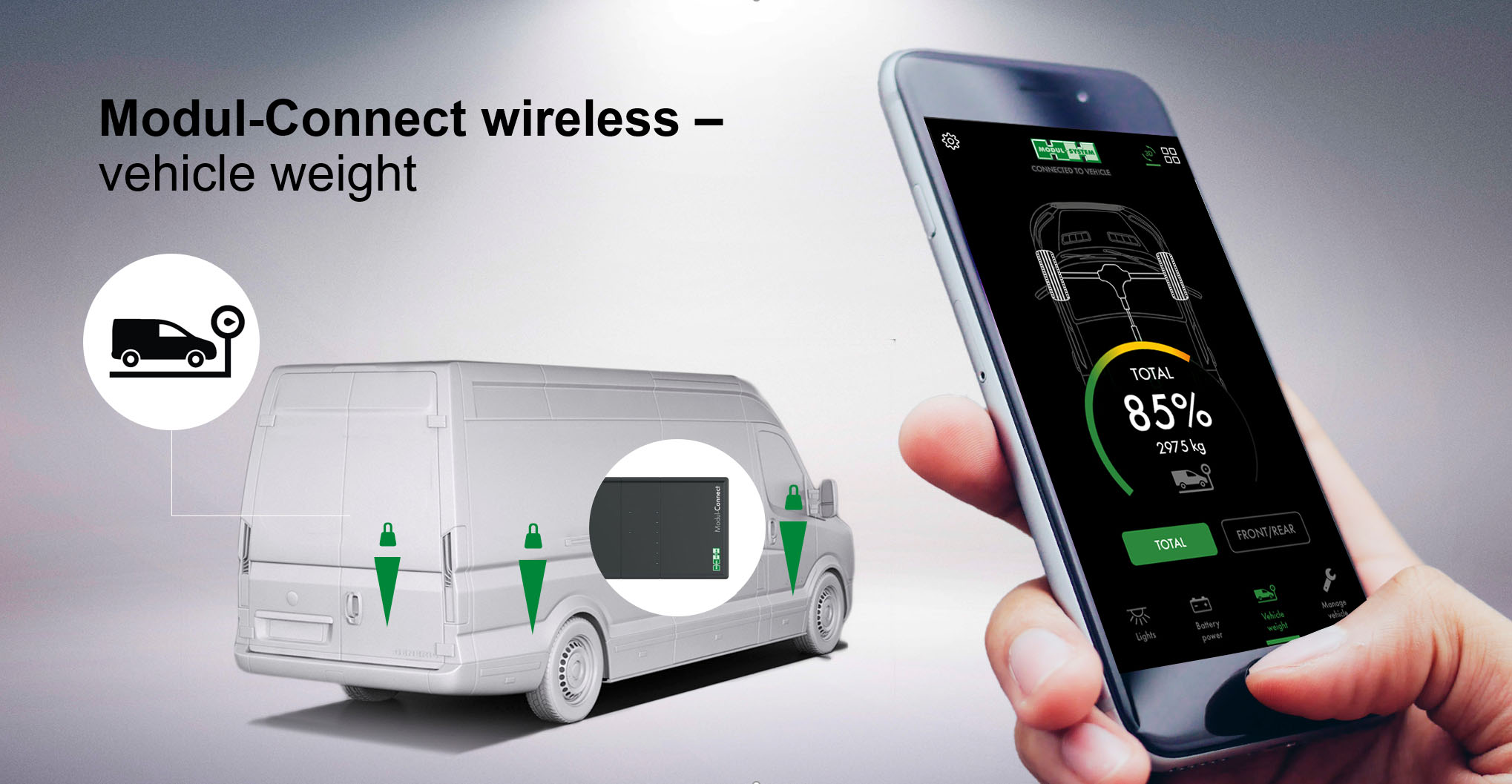 READ LESS

POWER INVERTERS
By using a power inverter, it is possible to run 230V equipment from the vehicle battery. We offer a range of high quality, pure sinewave DC to AC power inverters. All inverters features a low battery alarm to prevent total battery discharge and overload and over-temperature shutdown to protect the inverter and the conversion.
BATTERY CHARGERS
By using a battery charger you ensure that your auxiliary battery bank is always properly charged. We install both DC-DC and AC-DC chargers. The Modul-System battery chargers are compatible with all light commercial vehicles, including those with smart alternators, regenerative braking technology and start/stop functionality.
HEATERS
A heater will make sure that the vehicle is warm, even when the outside temperature is low. We offer both water and air heaters. The water heaters will pre-warm the engine / cabin, while the air heaters are suitable for warming up the load compartment / cabin.
EXTERIOR LIGHTS
Exterior lights will make the vehicle visible on, or by the side of the road. Our exterior lighting range includes beacons, strobe lights, work lights and light bars. The beacons, strobe lights and light bars meet R65 regulation and feature different flash patterns to suit every need.
INTERIOR LIGHTS
Good lighting conditions in your service vehicle will contribute to increased work efficiency and a higher level of safety. We offer a wide range of high-quality lights, including ambient lights, workbench lights, drawer/shelf lights and work lights in different versions.
ACCESSORIES
Modul-System offers a wide range of additional electrical accessories, such as reversing cameras and alarms, hand wash units, sensors, run locks, power sockets, etc. If you can't find the accessory you are looking for on the website, please contact a member of our sales team.
LET'S TALK
Do you have any questions or want to schedule an appointment?
Leave your details and we will contact you!

Alternatively, contact our sales team on:
Tel: 01628 528034 or
sales@modul-system.co.uk

Or why not visit our FAQ page and see if your question
has already been answered:
READ MORE

SUPPLY OPTIONS
Our award-winning products are available to order in a range of supply options whether you are a tradesman or the operator of a nationwide fleet. Our fitting options are outlined below and range from a complete fit out and conversion service to flat pack and pre-assembled delivery of our van racking kits.
Complete fitting service for vans and fleets at our Wooburn Green workshop
Via our national mobile installation teams
Flat pack (supply only)
Pre-assembled
Contact us today to discuss your requirements today.
Email: sales@tevo.eu.com or call us on 01628 528034
READ LESS